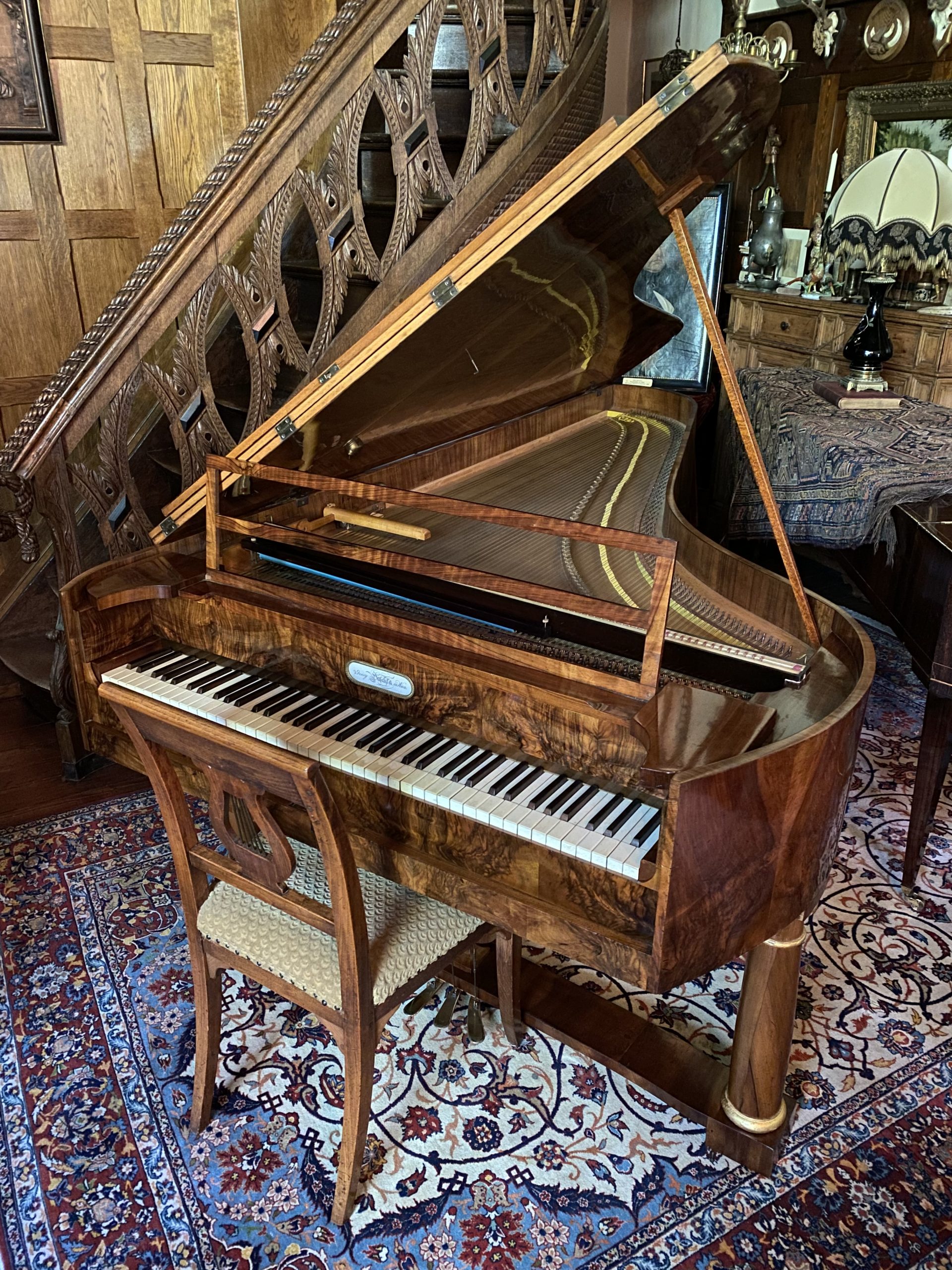 Georg Haschka Jr. Grand Piano
Type: Grand Piano
Collection: Kolthoorn Collection
Manufacturer: Haschka Jr., Georg
Year: c.1825
Geography: Vienna / Austria
Dimensions (cm): L=239 W=135 H=36
Current location: On display at Huize Kolthoorn
General description: A triple bentside book-matched walnut case, raised on three columnar legs decorated with gilded moulded collars. The walnut nameboard bearing a white plaque within a decorative gilt frame inscribed (later): Georg Haschka in Wien. The six octave and seven note keyboard CC-g4 with bone naturals and ebony capped accidentals. Viennese action. Single bridge. Stretcher with a lyre and five pedals operating keyboard shift, bassoon, dampers, moderator and Janissary effects.
Additional information
Compass: CC-g4
Pedals: shift, bassoon, dampers, moderator, and Janissary effects
Octaves: 6 1/2
Inscriptions
On the nameboard: Georg Haschka in Wien

Context: Georg Haschka Jr. is the son of Georg Haschka sr. (1772-1828). The extra pedals for special effects were inspired Mozart and Beethoven. In Mozart's Rondo à la Turca and Beethoven's 'Turkish March', the drum pedal with bell contributed to the 'Oriental-Turkish' character of these compositions. The popularity of this type of music can be traced back to the deep impression made on Europe by the Ottoman siege of Vienna in 1683. The siege was carried out by the Ottoman armies of Sultan Mehmet IV, led by the Grand Vizier Kara Mustafa. The Ottoman armies, with their Janissary electoral corps, were accompanied by military bands with drums, cymbals, kettledrums and the bell tree, with bells and plumes of horsehair.