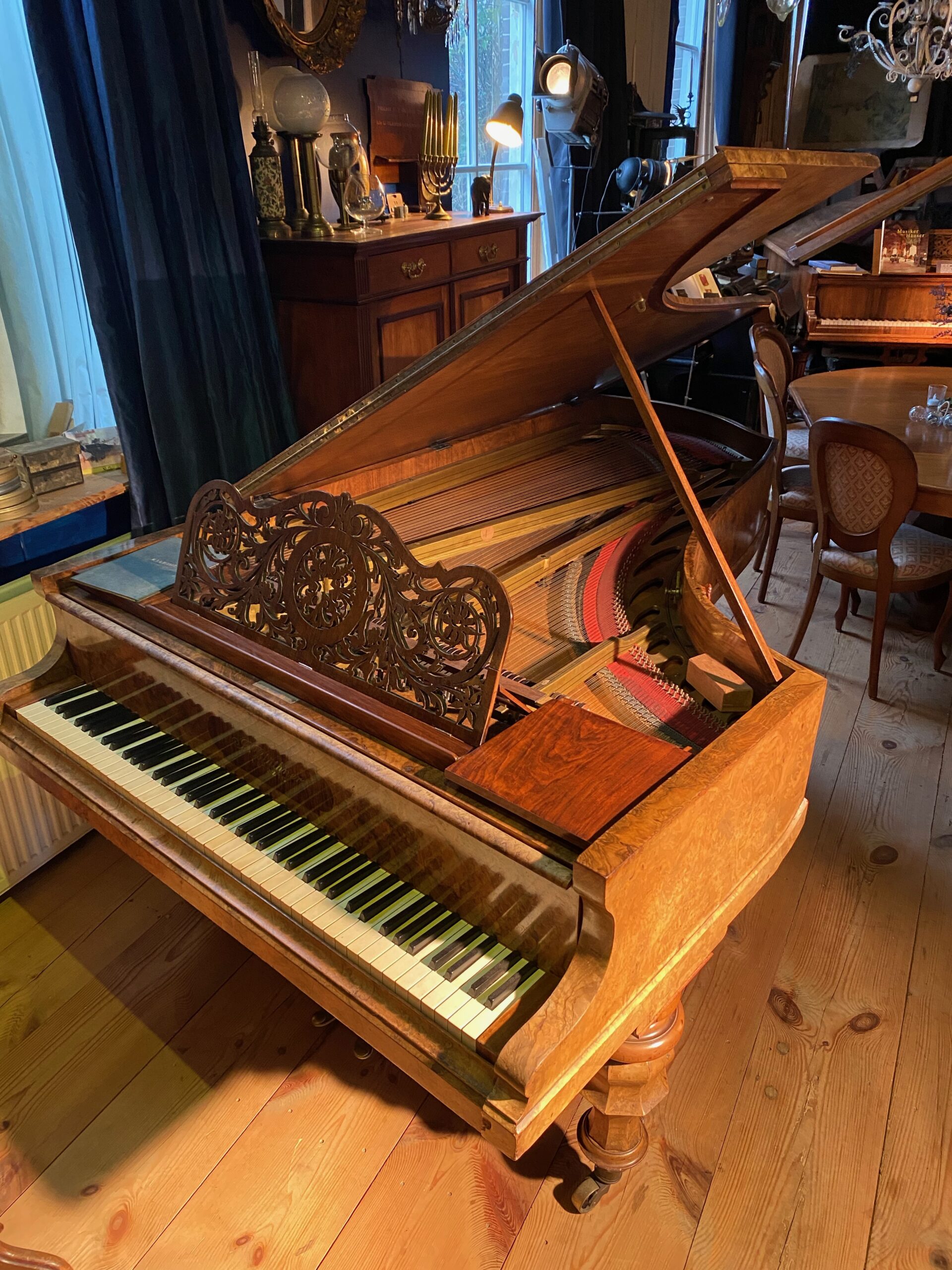 Blüthner Concert Grand Model 3 1863
Type: Grand Piano
Collection: Huis Midwoud
Manufacturer: Julius Blüthner (1824-1910)
Year: 1863 (approximately according to serialnumber)
Geography: Leipzig / Germany
Dimensions (cm): L=220 W=138 H=93
Current location: Huis Midwoud, Midwoud Netherlands
General description: Blüthner Grand Piano 220cm in polished walnut veneer, built at the Julius Blüthner Flügel-und Piananino Fabrik in Leipzig around 1863/64. The piano is mainly in original condition except for the new hammers which were renewed around 1980 at the Blüthner factory. The piano is in concert-condition and is used for concerts at Huis Midwoud regularly. The shape of the cabinet is quite special and the strings are overstrung. The piano has a rather soft but very rich singing tone with lots of overtones. It has a reach of 7 octaves A-a and was and is loved especially to accompany other instruments or singers.
Additional information
Performance characteristics: Perfect instrument to accompany singers or other instruments because of the soft but rich tonal quality and ability to sing and mix with other voices and instruments.
Keyboard width: 118cm
Pedals: 2 pedals Soft and Sustain
Octaves: 7 octaves A-a
Edition/serial number: serial number 4337
Context: Julius Ferdinand Blüthner (11 March 1824 - 13 April 1910) was a German piano maker and founder of the Blüthner piano factory. Short biography: Blüthner was born in Falkenhain (now Meuselwitz), Thuringia. In 1853 he founded a piano-manufacturing company in Leipzig Germany. Blüthner pianos had an early success at exhibitions, conservatories and the concert stage. Further inventions and innovations lead Blüthner to patent a repetition action, and, in 1873, the aliquot scaling patent for grand pianos. This added a fourth, sympathetic (aliquot) string to each trichord group in the treble to enrich the piano's weakest register by enhancing the overtone spectrum of the instrument. He died, aged 86, in Leipzig.
Decorative features: Walnut fineer (a little bleached and still unrestored) with french polish (Shellac)
More background
This instrument was build around the 10 year anniversary of the piano factory of Julius Blüthner, founded in 1853.